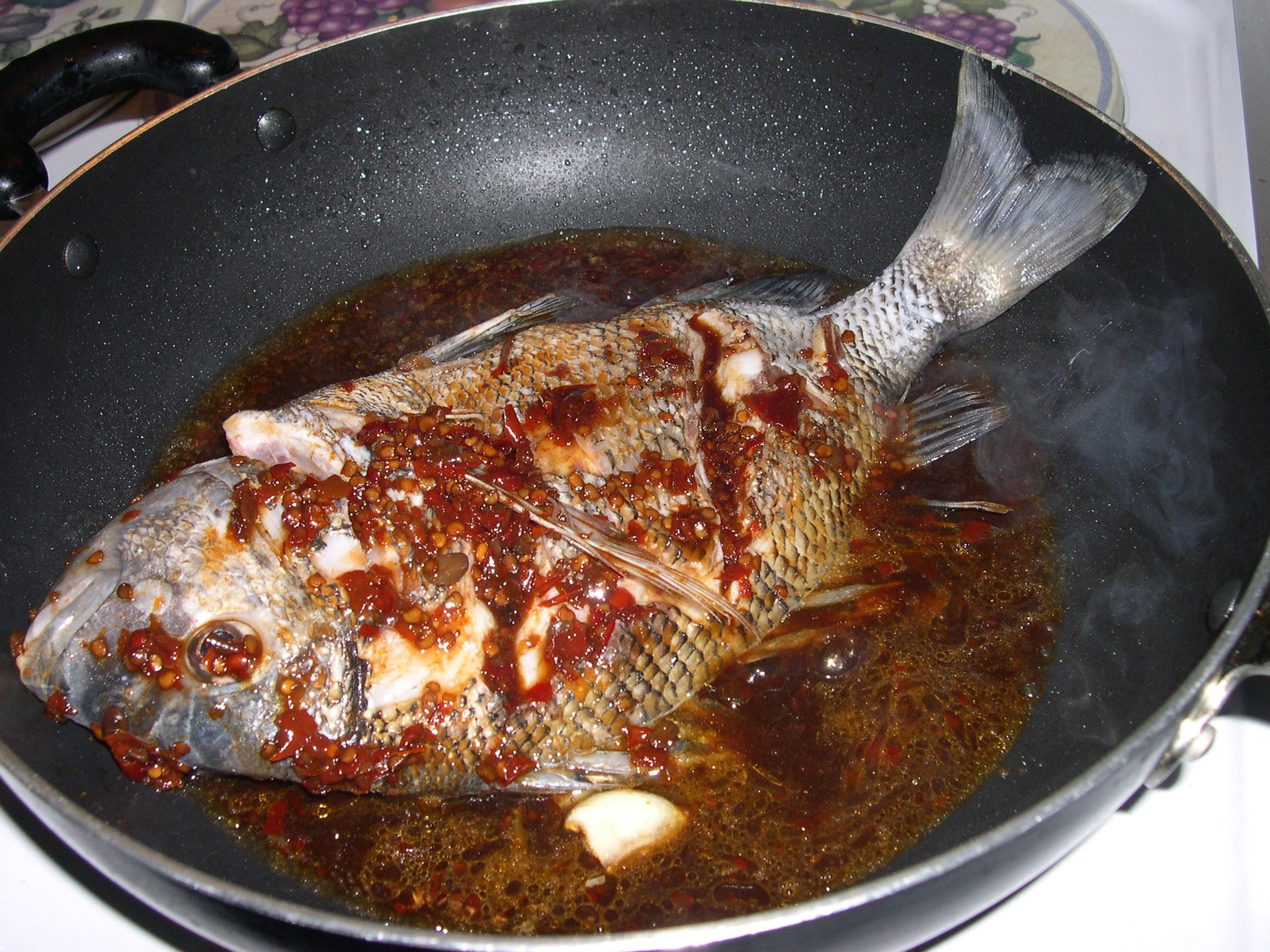 Recipe: Spicy Hunan Catfish (or Catch of the Day)

Fish is a very auspicious Chinese symbol and represents "extra" or "plenty." Cooked and eaten whole, the fish head is reserved for the guest of honor to eat. Mom loved to go fishing at the local lake or pier - so fresh! "Eat and Catch" was her motto!
Prep time: 20 mins
Cook time: 15 mins
Total time: 35 mins
Serves: 4
Ingredients
1 whole fish (trout, bass, catfish or "whatever you catch," says Margaret)
1½ c vegetable oil
6T soy sauce
2T Chinese dark vinegar (or balsamic)
2T grated ginger
2T Chinese fermented black soybeans
1-2T Chinese hot chili sauce
2T sugar
2T cornstarch
2 garlic cloves, minced6 green onions, chopped plus extra for garnish
¼ to ½ c water
Instructions
Score fish with sharp knife, rub with 1/2t salt/pepper. Set aside for 30 min. In a wok or deep frying pan, heat oil on high heat. Fry the fish until skin is crispy, about 1 min each side. Remove fish, set aside, reserve about 2 T oil in pan.
In small bowl, mix all seasonings (except water) and cook over medium heat (same fish pan) until bubbly. Add ¼ c water if sauce too thick or salty. Should be a nice balance of sweet, savory, tangy.

Reduce heat to low and return fish to pan. Cover fish with sauce, cover pan & simmer about 8-10 minutes until fish is fully cooked, baste with sauce a couple times, but don't turn fish over. (It's bad luck! Like flipping your boat.) Transfer to serving plate, pour sauce over fish, garnish with green onions