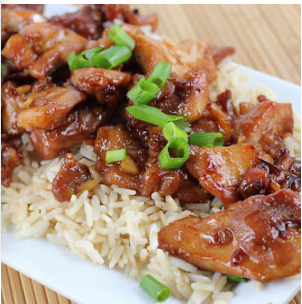 Sesame Teriyaki Chicken
The Sesame Teriyaki Chicken is a popular favorite dish and is now healthy and easy to make. This dish contains our natural, ready-to-use cooking sauces. In addition, kids love it!
The Wild Wild East BBQ & Teriyaki sauce is different from many commercial brands because it's sweetened with fresh pineapple and molasses, no high fructose corn syrup, and no MSG. At Chinese Southern Belle, we don't make anything we wouldn't eat at home ourselves and that is healthy for our family and yours!
It was inspired by my father, Mr. Keng's world-famous Honey Braised Wing sauce and invented in the 1980's. In addition, You should try our sauces on wings or ribs, too. You'll love them!