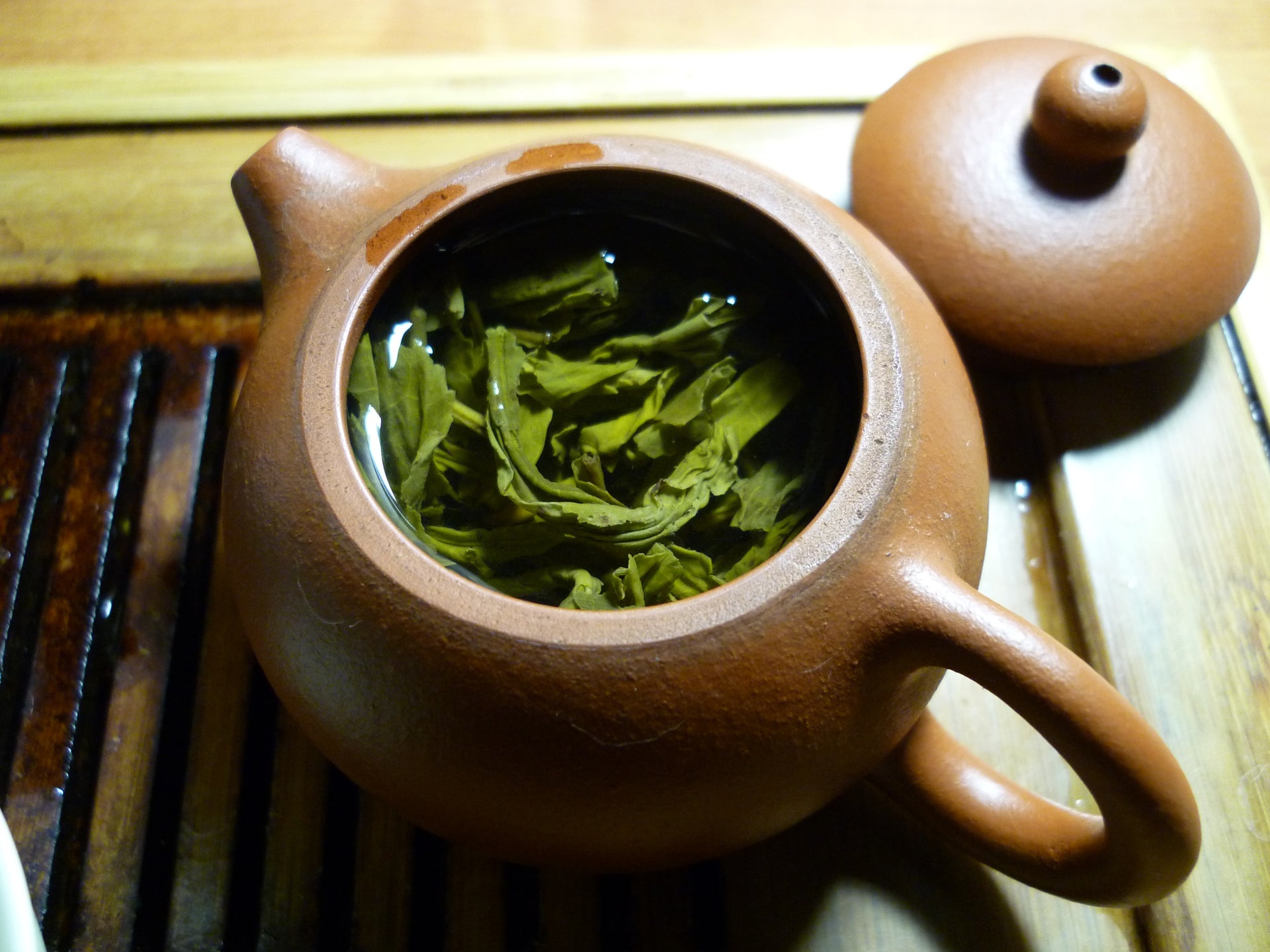 Honey Ginger Whole Leaf Green Tea
Research shows that tea brewed from high quality, whole green tea leaves contain healthful anti-oxidants and other benefits. Ginger has medicinal properties (aids digestion, circulation) and local honey may help with allergies.  I enjoy the hot version during the fall and winter then switch to iced in the summertime. Yin-yang seasonal harmony, baby!
 As an Asian and a southerner, we drink tea year-round, like traditional oolong or jasmine tea with zero sugar to sweet iced tea lattes with a touch of almond milk and honey! I had my first bubble tea and passion fruit tea in Taiwan in the 90's long before the U.S. craze and the night market served up roasted, fresh-pressed sugar cane tea. Avoid tea pills, supplements or sugary stuff in jugs and treat your taste buds (and immune system) to this honey ginger whole leaf green tea, hot or cold: perfect for awakening your metabolism and clearing sinuses in any season!
Honey Ginger Whole Leaf Green Tea (Hot or Iced)
Recipe Type

:

Beverage

Cuisine:

Chinese

Author:
Prep time:
Cook time:
Total time:
Serves:

2
I have a variation of the old Sting song "free, free, set them free" when it comes to brewing tea leaves. If you're lucky enough (or splurge) to get whole leaf tea, don't bunch, crush or squish them into a tea ball or similar gadget that doesn't let them steep fully. Use a handy press or filter cup. Set them free! Steep each round for less than 2 minutes and you can re-steep and drink the same leaves several times (4-5 times amazingly), varied with subtle nuanced flavors.
Ingredients
1 tsp dried or rolled whole leaf green or oolong tea (may vary by exact shape)
2 cups very hot (but not boiling) water
1 Tbs fresh minced ginger
1 tsp local honey
1 tsp lemon juice optional
Instructions
Steep tea in very hot water for 2 minutes.
Add 1 T minced fresh ginger in tea press or cup with filter in hot water, steep 1 minute
Squeeze ginger juice into tea before discarding ginger zest.
Add 1 tsp lemon juice & honey
Warm gently, if needed.
3.2.2708
Citrus zest (orange or kumquat) is a fragrant complement or variation. It's all good!