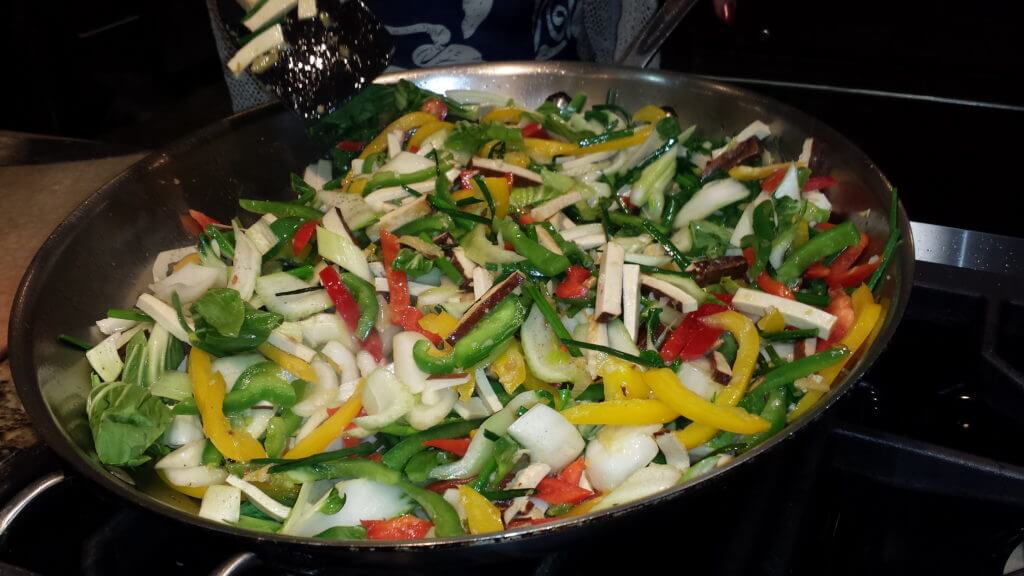 Healthy Stir Frying 101, Tips
Healthy Stir Fry Tips

Here's an easy way to cook a fresh, healthy stir fry with traditional and modern seasonings. I don't like to drown beautiful fresh vegetables in heavy, oily brown sauce (like many restaurants). Let the natural flavors and colors shine through! Enjoy!

1. Start with vegetable oil, 1-2 T for about 2-3 cups of sliced vegetables. Heat on med-high heat.

2. Add 3 G's - minced fresh ginger, garlic, green onion-- to season the hot oil, but don't burn the 3 G's. (This is our best stir fry tip!)

3. Add sliced favorite veggies (bok choy, red pepper, Chinese garlic chives, carrots, zucchini, mushrooms--one or mixed, it's all good)

4. Add about 1 T soy sauce, 1 t hoisin sauce, 1 T vegetarian mushroom or other stir-fry/oyster sauce. Total stir fry time is only 1 min, don't over cook.

5. At the end, add few drops of Asian dark roasted sesame oil, dash of white pepper, hot chili sauce optional.

6. Take off heat, remove from pan and serve immediately over rice or noodles.