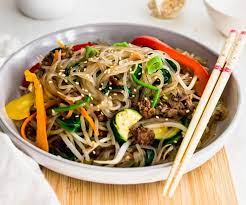 Glass Noodle Lo Mein
Glass Noodle Lo Mein
Author: Chinese Southern Belle
Prep time: 15 mins
Cook time: 15 mins
Total time: 30 mins
Serves: 2-3
Ingredients
1 pkg bean threads 4 oz. long pink package
1 t. dark sesame oil
1 t. vegetable oil
1/2 teaspoon crushed red pepper or hot oil (optional)
3 t garlic cloves, minced
½ cup sliced cucumber, 1 c sliced green onions
1 c julienne-cut carrots, 1 c red pepper slices
*2-3 T soy sauce, 1 T rice vinegar, 1 T dark sesame oil, 1 T sesame seeds, toasted
*Shortcut: ¼ cup YOU SAUCY THING replaces all 4 ingredients
Optional: Add grilled chicken, pork, shrimp or fried tofu strips.
Instructions

Prep noodles: pour boiling water over noodles; let stand 10 minutes or until tender. Drain and rinse with cold water. (Cutting noodles with scissors makes them easier to toss.) Mix sauce then toss vegetables and noodles. Garnish with sesame seeds, scallions, cilantro.