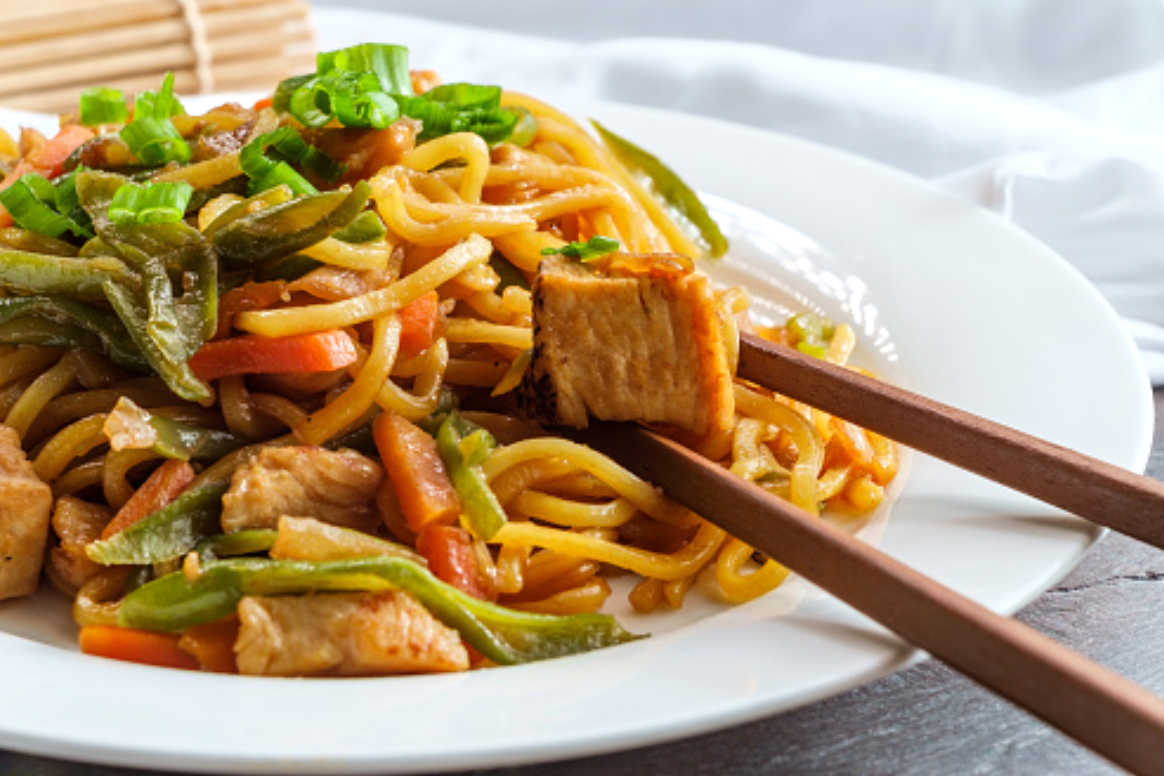 Harvest Vegetable Lo Mein
Harvest Vegetable Lo Mein
Recipe Type: Entree
Cuisine: Chinese
Author: Chinese Southern Belle
Ingredients:
Noodles: ½ lb Chinese noodles or thin whole grain spaghetti noodles
Meat or Fried Tofu: 1 lb boneless, skinless chicken breast, cut in thin strips
Marinade: soy sauce (2T), salt, garlic powder, black pepper (1/2t ea)
Vegetables (choose your favorites, fresh, seasonal)
2 cups, sliced, any combination: bok choy, carrots, red pepper, zucchini, snow peas
1 cup chopped green onion (1/4 c, reserve some for garnish), garlic (2T), grated fresh ginger (2T)
*Stir-fry sauce: Mix 1 c broth or water, 2-3T oyster sauce (or vegetable mushroom sauce), 1t sugar, 1/4t salt/pepper to taste (*Shortcut: 1/2 cup YOU SAUCY THING soy ginger Vidalia sauce)
Instructions:
Cut chicken into thin strips (easier when slightly frozen), mix in marinade. Marinate in fridge while you prep.
 Mix sauce in bowl. Cook noodles until tender but firm. Drain, rinse with cold water, drain again. Cut all vegetables in thin strips/julienne to match chicken.
 Stir fry chicken: heat 1T oil (med/high), stir-fry garlic few seconds, add chicken (add 1T water if needed) Set cooked chicken aside.
 Stir fry vegetables: heat 2T oil, salt, 3 G's first. Add veggies (carrots/white onions first), cook about 1 min.
Mix all together, keep heat med/high: Add cooked chicken, noodles, sauce, toss well. Stir-fry 1 min. until sauce thickens. Top w/green onions, serve hot.