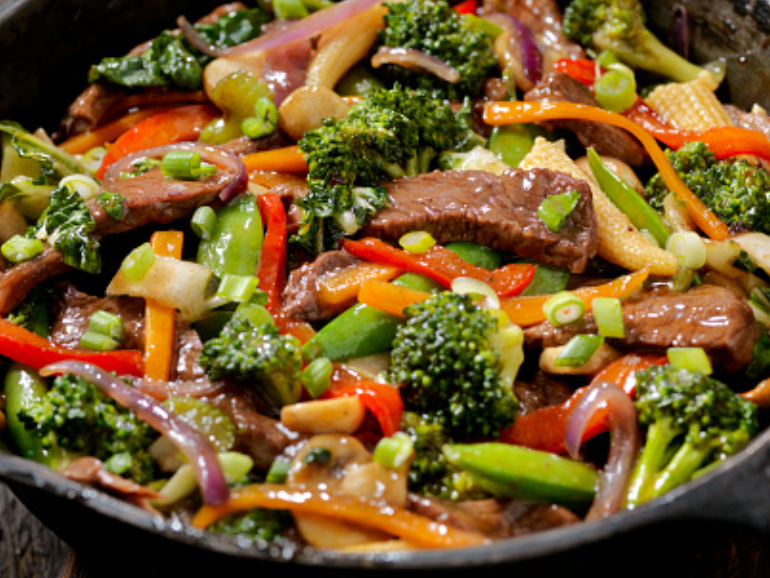 Recipe for Stir Fry with Garlic Scapes
Farm to Wok: Stir-Fry with Fresh Vegetables and Garlic Scapes

This is a Kengfamily favorite a stir-fry dish that highlights the color and flavor of fresh, seasonal vegetables and can be adapted for growing in the garden or farmers market. Versatile, healthy and delicious, this recipe may be used with a single vegetable or a beautiful medley. Popular ones include: Bokchoy, Napa cabbage, Chinese broccoli shitake mushroom, spinach, mustard greens, pea greens/sprouts, broccoli, chard, kale, beet greens, even shredded potato! Experiment with new vegetables from your farm stand!
-------
Featuring: Garlic Scapes
Garlic scapes are the curly immature flowered stems (or tops) of garlic bulbs. Picked early, they are tender and flavorful and can be cooked like asparagus or a 2G stand-in! Trim off any tough bottoms and stir fry, steam or blend into pesto yum! Enjoying garlic scapes (including tops) also supports whole food cooking values that grandma taught us
------
4 c bok choy, sliced
½ c carrots or red pepper, sliced (adds nice color)
½ c garlic scapes, sliced
1 c fresh shitake mushrooms (optional)
1 T each of 3, minced/chopped
1 T vegetable oil
1 T soy sauce
2 T vegetarian mushroom sauce*
½ t sesame oil
Dash of white pepper
-----
Stir fry 3s in oil first. Add greens with seasonings, stir-fry a minute. Serve immediately.
Meat option: Slice raw meat and marinate/mix in bowl with 1 T soy sauce, ¼ t garlic powder  blk pepper, while you cut your vegetables. Heat oil and stir fry until done. Set aside. Wipe out pan and heat 1 T oil. Saute 3s, stir fry, season vegetables for 1 minute. Add in meat, toss and serve immediately with rice or noodles.