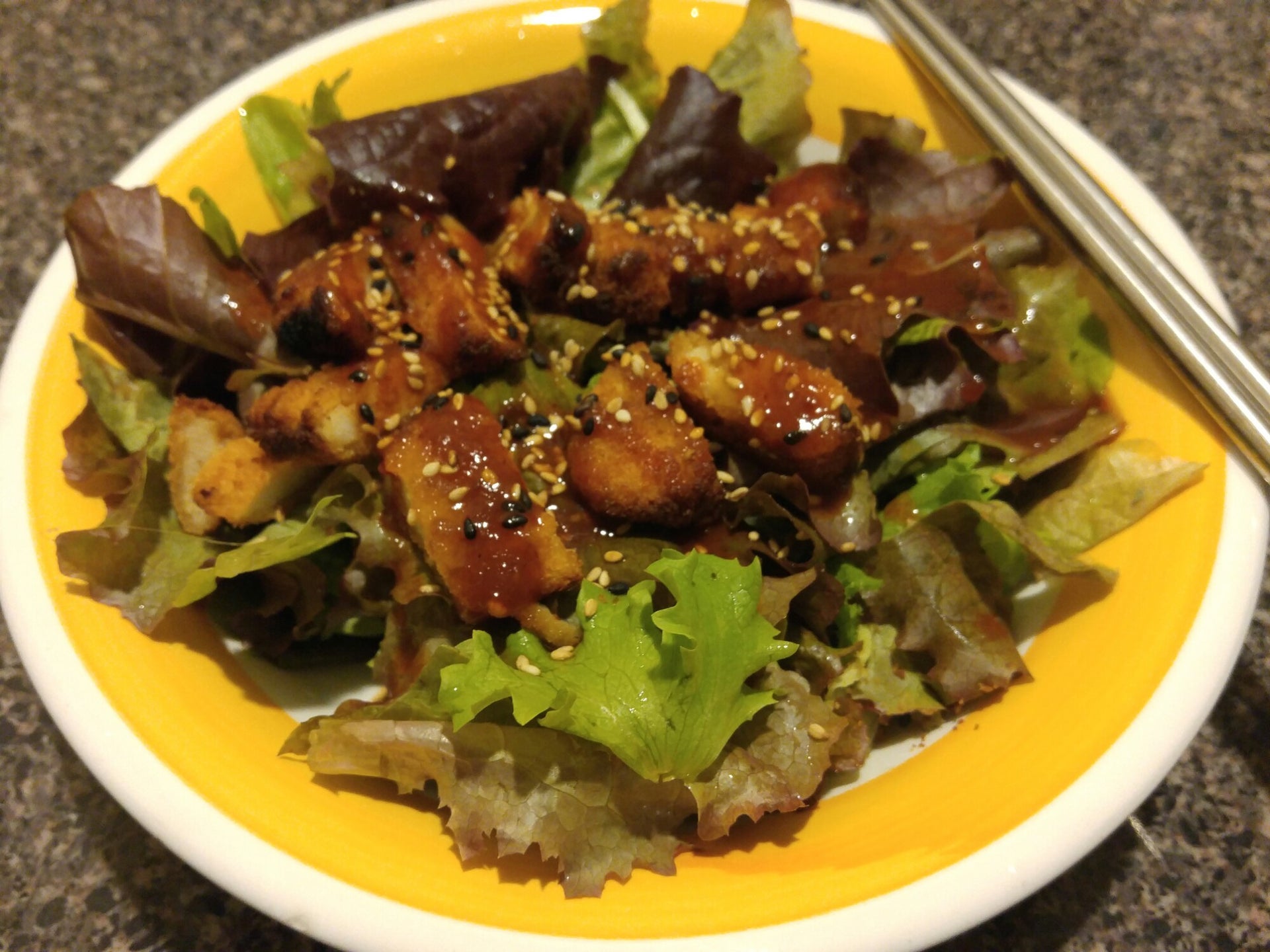 General Nat's Chicken Tender Salad
WHAT'S FOR DINNER: General Nat's Chicken Finger Salad
I made this in 5 min. Channeling a craving for General Tso's Chicken, I made my own warm salad with mesclun mix + winter greens from my garden and leftover tenders. The magic is in the dressing. Yes, I am the owner AND a customer! I adore using our natural sauces as DRESSINGS for slaw and salad! So easy and tasty, they are making me a lazy (but healthy) home cook. Believe you me, after leading a cooking class or food tour, I'm too tired to even lift a pair of chopsticks!
Do a vegetarian version with grilled tempeh or seitan. Do a hot version with wilted spinach or chard underneath (drizzle a touch of soy sauce or lemon juice) instead of salad greens.
More easy variations:
General Nat's Country Fried Steak Salad with Soy Ginger Vidalia dressing

Teriyaki Fried Oyster

Sweet Chili Peach Fried Fish Salad
See, you can have your chicken fingers and eat it too. Yummy, fast, and light! 
1.5 cups spring mix lettuce
2 chicken tenders, sliced bite size
Drizzle 1 tbs Sweet Chili Peach, 1 tbs Teriyaki Pineapple as dressing
Garnish w/sesame seeds. That's it!
Variations: Asian slaw, Tofu Vegetarian, tortilla or lettuce wraps, tacos, flat bread, over rice or noodles