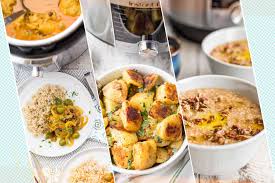 Energy Efficient Eco-Cooking Pot!
We've been using it for years already; everyone in my family has their own and before they were available online or in stores, they were stuffed into someone's luggage or hand carried back here, as a special favor. Our crockpots ended up at the garage sale!


Recently, we used only eco-cooking pots at the Dunwoody Chili Cook-off! Instead of cooking continuously on a gas stove for 3 hours, our vacuum thermal eco-cooking pots (after an initial heating of 15 minutes) cooked our chili without additional electricity or gas, plus kept it piping hot for serving!


It has a regular stainless steel or aluminum inner pot that lifts out for initial heating on a stovetop and an outer "thermal" insulating pot that seals in the heat (and flavors). Put all the ingredients in the inner pot with a liquid (broth, water) then put it back in the thermal pot, close the lid and let it finish cooking, without additional electricity or gas. Depending on what you're cooking, raw beans, veggies or meat, and their size/shape, the cooking time will vary from an hour to several hours. The eco-cooking pot (my name for it) doesn't have a plug.

Like most Asian appliances, there are now many brands and styles. I like the Japanese brands, Zojirushi and Tiger, but they don't always have the handy carrying handle which makes them easily portable. Other brands that are less expensive ($30-70) usually have a weaker thermal capacity so some food, like raw beans, may not cook well or take a few rounds from stove to eco-pot, but work OK for most soups, stews, even noodle and rice dishes. Supposedly, only these two Japanese brands own the patent or have access to the original thermal vacuum technology, which is the magic element. But they will be more expensive ($100-200) I have two different brand pots and cook different foods in them.


The only way to tell the difference is actually cooking in them since the high-tech ones maintain the heat (or cold) for cooking/cooling insulation and the cheaper ones, lose the heat/cold capacity more quickly. We use these for soups, stews (lu rou), cooking beans or rice. My friend had a frozen margarita picnic party with hers and I used mine as a small cooler for the ice cream in mid-summer heat!


Since it uses no gas or electricity while cooking in the thermal pot, I can "cook" while I'm working, commuting, hiking. It's perfect for potlucks, guest parties, festivals.


Check back for more info and tips on where to buy, good models, recipes!