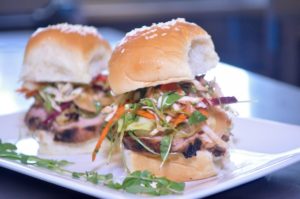 Get Saucy: Tired of Fast Food? Need Home Cooking Help? Kitchen Tool
Support Local Businesses: Order Our Natural, Family Cooking Sauces Online-Direct!
Get our award-winning scrumptious sauce blends--authentic family recipes with fresh ingredients, less salt, more flavor. Whether you're a cook or non-cook, no recipe needed. Our sauces are so versatile and delicious, they make EVERYTHING (well, maybe not ice cream) taste good, from instant stir fry, sandwiches, burgers, tacos, noodles and finger food to takeout!  No MSG, No cheap fillers. No high fructose corn syrup.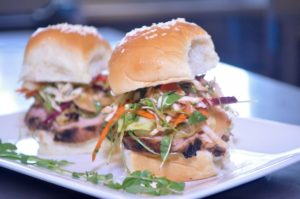 * WINNER - FLAVOR OF GEORGIA - BEST COOKING SAUCES *
Sweet Chili Peach (My Sweet Hottie MILD)

:

O

ur homemade sweet 'n' sour sauce with a Southern twist and less goopy sweet. Zesty freshness on salads, slaw, finger foods, and seafood.

Soy Ginger Vidalia (You Saucy Thing)

: Grandma's all-in-one sauce for instant, authentic healthy stir fries. A perfect, complex blend of fresh, authentic sauce ingredients - without the chopping/shopping and less salt! Versatile savory goodness as a stir fry sauce, marinade, dressing, dipping.

Asian BBQ Teriyaki Pineapple (Wild Wild East)

: Crowd pleaser and kid favorite with fresh fruit, clean taste. No junky corn syrup fillers, no artificial smoke additives. Amazing on anything chicken, pasta, ribs, meatballs, burgers, vegetables, tacos, wraps.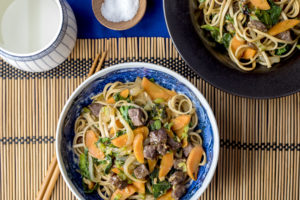 Enjoy individually or mix 'n' match the different sauces, spike it up with hot sauce, use hot or cold dishes, Asian or non-Asian and everything in-between-- dozens of ways to enjoy - no recipe needed! But don't worry, every order gets a Recipe Card and more free recipes and videos online.
Here's how to GET SAUCY and support us:
Order direct from our CSB webstore  and get FREE SHIPPING (freeship20)! This benefits us the most directly, plus we can share awesome recipes, tips, online demo events with you.
Next best or if you're a die-hard Amazon shopper.

Comes as a

 best-selling trio: large 12 oz Asian Chef Trio (plastic bottles) OR  Asian Chef Glass 8 oz trio set   

Help us stand out in the Amazon "jungle" a review as a new seller.  Send us your email separately if you want awesome recipes, tips, online demo events, and more from us.
If you're local, our sauces are available in these stores around the region.  If you can't find it or want your store to carry us give us a holler or drop a line.
Are you a caterer, chef or food service interested in our amazing scratch-cooking, chef-quality sauces? More info
*NEW TO COOKING AT HOME? GET OUR FAVORITE KITCHEN TOOL FOR PREP....AND LEAVE IT TO CLEAVER :)

Don't be intimidated by the bigger blade! Fits in my small hand great.
Watch this Amazing Knife IN ACTION -  Asian-styled Cleaver Video - using the cleaver in our cooking classes and at home!
Order direct from our CSB webstore  and get FREE SHIPPING (freeship20). This benefits us the most directly, plus we can share awesome recipes, tips, online demo events with you. Also available on Amazon
LEAVE IT TO CLEAVER!
Foodie-friendly and Kitchen Tough!
Proprietary high-carbon, high-alloy stainless steel. Individually ground and honed edge.
Sharp, right out of the box. Easy to re-sharpen. Natural hardwood handle.
Limited Lifetime Warranty. Looks large in size, but it's lightweight, versatile, and slim.
A highly versatile knife for scooping and transferring chopped vegetables from the cutting board into a pan.
The sharp tip can peel soft skins, the flat part of the blade can smash garlic, and the spine can pound and tenderize meat.
[caption id="attachment_12143" align="alignright" width="300"]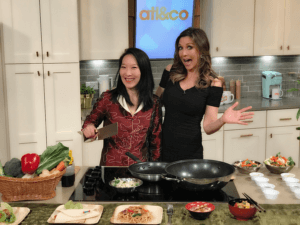 1-Minute Stir Fry with Natalie Keng, Chinese Southern Belle[/caption]
My mom always boasted that she could make a 10-course meal with only a skillet, pair of chopsticks,and this, her favorite tool! She did everything – slice, dice, shred, chop, bang, smash, tenderize, even scoop! Mom whipped up fast, healthy "country" meals for a family of five, like Pepper Steak and Rice-a-Roni and Five-Spice Home Fries with our sauces as a base, marinade and instant stir-fry sauce. This knife has my mom's stamp of approval, so it might be the first cleaver you've ever owned, but likely the only one you'll need to buy (unless you get more for gifts!)
Traditionally, these blades were used for butchering whole animals--bones, gristle and all. They were big and heavy and shaped like an axe. Small enough for my hand but solid and precise enough for a variety of vegetables, from the farm stand or market, from russet potatoes and radicchio to daikon radish and ginger!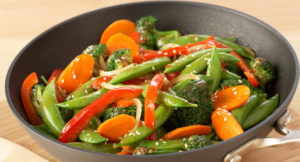 I own many cleavers and the 8-inch blade size is more widely available but this 7-inch model is big enough, not too heavy and all-purpose. Don't use it to hack up a cow or frozen chicken, but it does about everything else.